Monitoring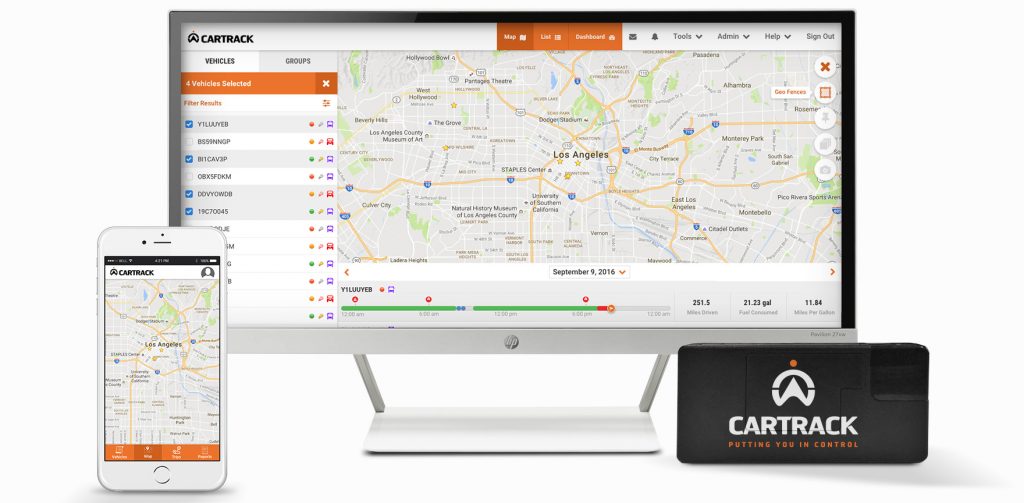 Gain instant access to the monitoring systems of all your vehicles in real time. Cartrack's online software platform allows you to track the movement and actions of your drivers and vehicles, 24 hours a day on any platform (computer, tablet or smartphone).
Owing to the real-time fleet management area on the map, you can perform various actions, accurately locate all the vehicles in your fleet anywhere in the world and access the fundamental data required for efficient management.
Reports
Optimise your vehicles' operations by accessing comprehensive reports related to driver behaviour. The defined and specific nature of these reports means that you can analyse the history of your fleet over time, which will facilitate the identification of tasks and areas that require improvement.
These reports are ideally suited for companies that require extensive information relating to productivity and costs.
Alerts
In real-time, you can receive automatic alerts via SMS and email relating to the faults, exceptions or infractions that are registered by the vehicles in your fleet, including the entry and exit of geofences, speeding and idling. These alerts can be customised and adapted according to your company's preference and requirements. Once these real-time alerts are verified and configured in the application, you can take immediate action relating to anomalies in daily activity.
Recovery of Stolen Vehicles
Cartrack is the only company that, in addition to real-time monitoring, commits itself to dedicated recovery service for stolen vehicles, with a team of highly-trained professionals on-hand 24/7 to aid in the recovery of stolen vehicles. Real-time access to the location of your vehicle also allows the authorities to quickly intervene in aiding the recovery of stolen vehicles.
Our safety and recovery solutions can be installed on any type of vehicle, objects or cargo. The main features include
Receiving automatic alerts
The management of procedures with the relevant authorities
Solutions are available for any type of vehicle or cargo
A 98% recorded success rate
Anti-theft security
Access to a 24-hour monitoring room, available 365 days a year
+ SOLUTIONS
Cartrack's Fleet management solutions ensures that our customer receive high performance GPS vehicle tracking alongside a world-class fleet management service. An advanced computer platform and a set of real-time reports and alerts enables fleet managers to be more efficient and effective in their daily role.
We are able to provide this service owing to our integrated set of technological solutions that contribute decisively to improving productivity, reducing costs and improving efficiency. Our cutting-edge fleet management systems will therefore significantly increase your business ROI.
Ultimately, we ensure that you are able to save on labour and operational costs, and provide you with peace of mind in terms of your business and the safety of your vehicles and movable assets.